We took notice of a new site that serves as a fitting compliment to Coalition Against Fur Farms: the Wildlife Farms Database, which compiles addresses of captive wildlife operations in all 50 states.
The site has a great rollover US map, allowing you to click on any state and see a list of wildlife farms in that state.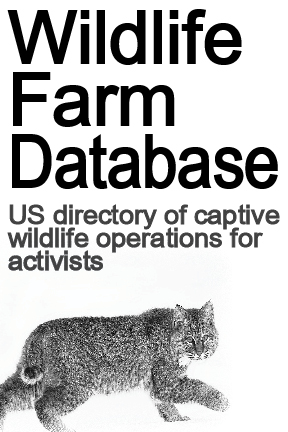 What are wildlife farms?
Here is a sampling of the types of operations listed on this site (from the Wildlife Farms Database mission statement):
"Game" breeders
Canned hunts
Wild animals used for their flesh (i.e. deer held for "venison")
Urine collection / trapping lure operations
Penning operations (animals used to train hunting dogs)
Wildlife "exhibitors" (such as roadside zoos)
…..and many, many more.
The farms listed appear to run the range of species, including those that imprison frogs, pheasants, bobcats, quail, coyotes, groundhogs, squirrels, and literally hundreds of other species.
The site posts information obtained from public records, including the species held captive when available, and in some instances the exact number of animals.
Altogether, this is a very well-researched site that will be of interest to many readers of this one.
Check out the wildlife farms database.